Some of you who are reading this may be new homeowners, and some may just be on the lookout for ways to improve the look of your home – after all, the housing market is hot right now for sellers. What that really means is that you might be able to make some improvements to your home in order to make it more appealing to potential buyers. Or maybe you are just sick of looking at the same old thing and want to make a change for yourself. Whichever reason you are going with, improving the look of your outdoor spaces will give you a better return on investment in your home. Whether that means right now, during the hot seller's market, or 20 years down the road – an improvement is never wasted.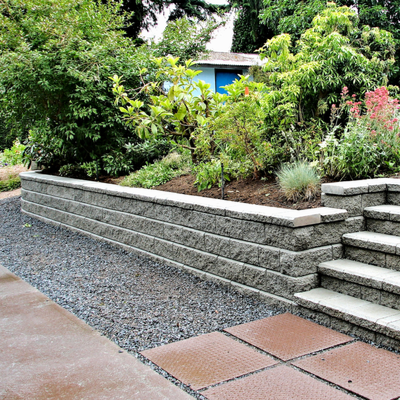 Either way, you stopped at the right blog. Sometimes you and your family know you need a change, but you just aren't sure where to begin. With Eagle Lawn and Landscape, we are here to show you just where you can start. Our ideas are merely suggestions because everything is customizable to your needs or aesthetic.
Start With A Retaining Wall
Many people in the area have some extra land to work with, which means there is plenty of space to add some sort of retaining wall to their property. A retaining wall can be built out of multiple types of material from concrete blocks, poured concrete, treated wood, rocks, or boulders. Some of these materials are easier to use than others. Still, they all can help create a useful space by enhancing the look of your already beautiful natural land, provide some sort of structural support for another piece of landscaping, and so much more.
Spruce Up Your Walkway With A Paver
The pathway to your front door or the one to your backyard can be plain cement to match your driveway. But wouldn't you rather choose to add something more eye-catching? A paver can be customized to match your home aesthetic and add something more to the overall look. They can be dyed any color to ensure your creativity shows through, or you can go for a more eclectic look and have a variety of colors all in one paver. And maybe you don't just stop at one paver; you can do them throughout the yard, leaving pathways throughout your garden, backyard, and more.
A Simple Upgrade: Mulching
Mulching is an extremely underrated landscaping ideal. Not only is it incredible for your plants and garden, but it creates a fresh, uniform look that people just fawn over. Rather than having basic soil or rocks covering your soil, mulch can create a better environment for your plants to grow. It can also come in a variety of colors like red, brown, black, and some others as well. This way, it will push your garden over the edge to perfection, and it allows your home to look fresh and clean.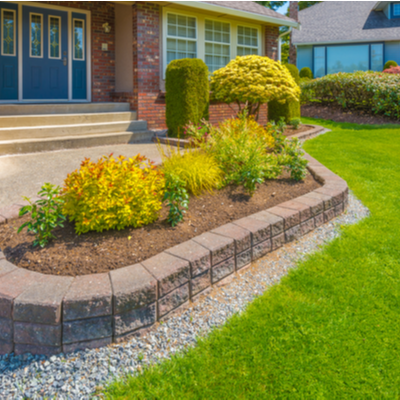 Don't Let Your Landscaping Wait Any Longer! Call Eagle Lawn and Landscape Today!
The experienced team at Eagle Lawn & Landscape Inc. is ready and willing to tackle your landscaping needs. Whether it is installing pavers, transforming backyards, building patios, adding retaining walls, or whatever it might be – we are the team who is right for the job!
Our team has well over 20 years of experience in the field, and we are ready to take on whatever you need when it comes to making your yard the best it can be. We have been providing services like irrigation installation, landscaping, hardscaping, and lawn care to the Sioux Falls area for as long as we have been around – which means we know what you need!
Don't forget to consistently keep up with your lawn, which you can do by checking out our other lawn services such as perimeter pest control, grub control preventing the emerald ash borer, landscape, lawn care, and more.
To reach us, you can pick up the phone and give us a call at 605-366-1111. If you'd rather use the internet to your advantage, you can leave us an online message here.
Don't forget to head over to Facebook and give us a "like" to keep up with what we do on a regular basis. You can also continuously find seasonally relevant information here on our page with our monthly blog.